Our commercial electrical services in Charlotte encompass everything from small projects to complex, high-voltage work.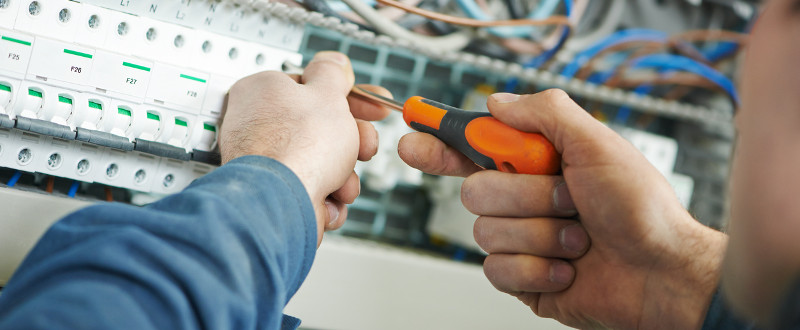 Your business in Charlotte, North Carolina has far different electrical needs than a residential property would have. Because of that, you want to be sure you are getting commercial electrical services from a company that has the experience and capacity necessary. When you call us at Lake Electric Co. Inc., you are assured of the best possible results. Since 1984, our name has elicited the phrase, "Call them when it has to be done right!"
We are the team for the job when you require
industrial electrical services, and that's something
you can count on.
Most companies cannot provide the heavy-duty, high-voltage, and complex commercial electrical services that are common with retail, institutional, industrial, and commercial complexes. We have the largest diverse equipment fleet in the Carolinas, as well as the experienced professionals to tackle any commercial electrical services you may need.
We recognize that, when it comes to commercial electrical services, sometimes your need is urgent. Our dispatchers GPS track our vehicles so they can easily ascertain which crew can get to your site the quickest. This is just part of what makes us your best choice for electrical work. You'll quickly see that our service is consistent, high-quality, and efficient and puts safety first.
We handle even the biggest jobs, as we have backhoes, welders, generators, road boring equipment, hydraulic presses, and more that are ready to tackle high-voltage power lines, switchyards, cable trays, fiber optics or whatever else you need to be done. Contact us today with any questions you may have about our numerous commercial electrical services. Whatever your job requirements might be, including performance and payment bonds, our experience and dedication will get you the results you need for any job, small or large.
---
Commercial Electrical Services in Hickory, NC
Commercial Electrical Services in Gastonia, NC
Commercial Electrical Services in Lake Norman, NC
Commercial Electrical Services in Statesville, NC
Commercial Electrical Services in Mooresville, NC
Commercial Electrical Services in Lenoir, NC
Commercial Electrical Services in Morganton, NC
Commercial Electrical Services in Troutman, NC
Commercial Electrical Services in Lincolnton, NC
Commercial Electrical Services in Taylorsville, NC