Day or night, we can send a professional commercial electrician to resolve any electrical problem.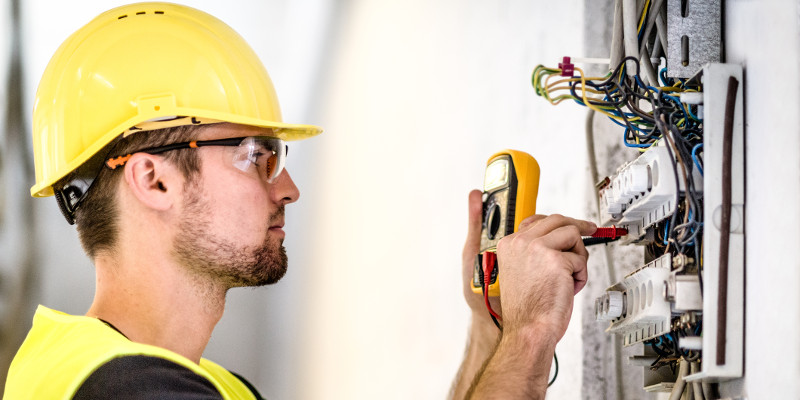 If you are searching for a commercial electrician in the Lake Norman, North Carolina area, we are confident you'll be glad you found us here at Lake Electric Co., Inc. We have been serving the area for more than 30 years, and our name has synonymous with the phrase, "When it has to be done right." The mindset to perform each project with precision and professionalism has always been the driving force behind our company's growth and success.
Over the years, we have grown considerably. We now employ more than 100 professionals and have an extensive inventory of trucks, tools, and equipment, which allows us to handle virtually any type of electrical work you may need, whether planned or in an emergency. Day or night, you can get a professional commercial electrician at your business to resolve whatever problem you are having.
Promptness is something we don't just hope to achieve. We've mastered it by using GPS technology to track our vehicles as they go about their day. This allows us to pinpoint the closest commercial electrician to your business who can be there the quickest. Our dispatchers work tirelessly to assure you get the help you need when you need it.
Our experience extends to all types of commercial electrical systems, including those in government buildings, water and wastewater treatment plants, sports arenas, schools and colleges, manufacturing facilities, retail shopping centers, office buildings, and more. If you need a commercial electrician for rewiring, lighting repair or installation, switch wiring or even an issue with high-voltage power lines, don't hesitate to give us a call.
---
Commercial Electrician in Hickory, NC
Commercial Electrician in Charlotte, NC
Commercial Electrician in Gastonia, NC
Commercial Electrician in Statesville, NC
Commercial Electrician in Lenoir, NC
Commercial Electrician in Morganton, NC
Commercial Electrician in Troutman, NC
Commercial Electrician in Lincolnton, NC
Commercial Electrician in Taylorsville, NC
Commercial Electrician in Mooresville, NC