From simple electrical work at your Charlotte company to the complex nature of high-voltage power lines, count on us to get it right!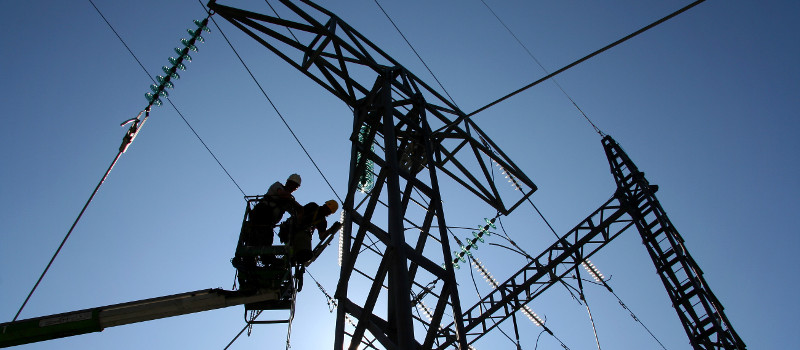 It takes 120v to power most things in a household, with 240v needed for certain appliances that require more power. As power comes from its source, be that a power plant operating off water or something else, it travels first through high-voltage lines. This is done to reduce line losses. If it began at the 240v needed at the end, you wouldn't get that much – in fact, you'd be lucky to get half that. Long distance transmission of power is generally as high as 765,000v but is stepped down to around 7,200v as they go through the distribution bus, and further through substations, with the final downgrade done at the transformer near the end user. With this system, power loss is cut to roughly 2% making for an effective power grid system.
The typical electrical company only handles power after it has gone through the transformer, but here at Lake Electric Co. Inc., we are qualified and experienced to work on high-voltage power lines, high-voltage power supply, and transformers as well. We are equipped to install, maintain, and repair them. Whether you are a municipality that needs someone to be ready 24/7 to get power back on for your community, or a facility with high power requirements that uses a high-voltage power supply, we're here to keep things running smoothly.
We have served the Charlotte, North Carolina area since 1984. With a team of more than 100 dedicated employees and more than $1 million in inventory of trucks, tools, and equipment, we are in a position to handle even the largest electrical projects. We have our own engineering department and an in-house fabrication shop for custom items. We also have a crew to perform concrete, asphalt, and landscaping work, so that your project is completed without the need for a specialty subcontractor. Call us today to learn more about our work with high-voltage power lines or any of our other electrical services.
---
High Voltage Power Lines in Hickory, NC
High-Voltage Power Lines in Gastonia, NC
High-Voltage Power Lines in Lake Norman, NC